Join us for the special anniversary edition of the 10th World Glaucoma Congress® in Rome, Italy, June 28 – July 1, 2023.
Organized by the World Glaucoma Association and co-hosted by the Italian Association for the Study of Glaucoma and the Italian Glaucoma Society, the upcoming Congress in Rome will be the world's largest glaucoma meeting, and will bring together thousands of eye care professionals and glaucoma specialists from 100+ countries as well as major stakeholders in combating glaucoma, a leading cause of vision loss.
WGC-2023 offers various exciting sponsorship opportunities. Please download the brochure below or contact the WGC sponsorship team directly at wgc-exh@mci-group.com to know more!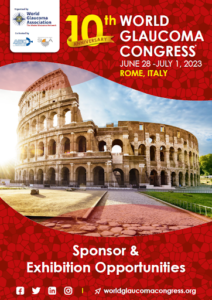 Compliance
The World Glaucoma Congress 2023 (WGC-2023) has been determined as provisionally compliant by MedTech Compliance Certification. Updates on certification and compliance will be posted here in the coming weeks. In the meantime, for any questions please feel free to reach out to our Sponsor & Exhibition team at wgc-exh@mci-group.com.